In the epoch of Coronavirus, it's a case of the supporters being supported.
Local Authorities have had to be bailed-out by central Government to the tune of £3.2 billion so that they can continue to provide their essential services, such as bin collections. As part of the package, the latest tranche of which was added on 18th April 2020, £300 million goes to the devolved administrations, £155 million for Scotland, £95 million for Wales and £50 million for Northern Ireland.
The Government calls this "an unprecedented level of additional financial support in recent times."
An initial £1.6 billion of funding announced for councils last month: £2.9 billion funding to strengthen care for the vulnerable

The relaxation of restrictions around supermarket deliveries

The postponement of local, mayoral and Police and Crime Commissioner elections until May next year

Temporary suspension of routine Care Quality Commission inspections for the duration of the Coronavirus outbreak

Councils are able to use their discretion on deadlines for Freedom of Information requests

Deadline for local government financial audits has been extended

Legislation brought forward to remove the requirement for annual council meetings to take place in person, and to allow council committee meetings to be held virtually: Robert Jenrick reaffirms support for councils in their coronavirus response

The government has also brought forward the payment of social care grants, totalling £850 million, and will delay £2.6 billion in payments to central government: Councils given greater financial relief against cash flow pressures
Local authorities are also the front-line in supporting communities and primarily raise their funds in the following ways:
Government grants – money from central government for local services

Council tax – a property tax levied on residential properties

Business rates – a property tax levied on business premises
They also raise funds via levying parking fines and the like.
In 2018/19, local authorities in England received 31% of their funding from government grants, 52% from council tax, and 17% from retained business rates – revenue from business rates that they do not send to the Treasury.
Unlike central government, local authorities cannot borrow to finance day-to-day spending, and so they must either run balanced budgets or draw down reserves – money built up by underspending in earlier years – to ensure that their annual spending does not exceed their annual revenue. But reserves can only be used once. Once reserves are spent, they cannot be spent again. Institute for Government
How do local authorities spend their funds:
Proportion of budgeted service expenditure by service, England, 2018-19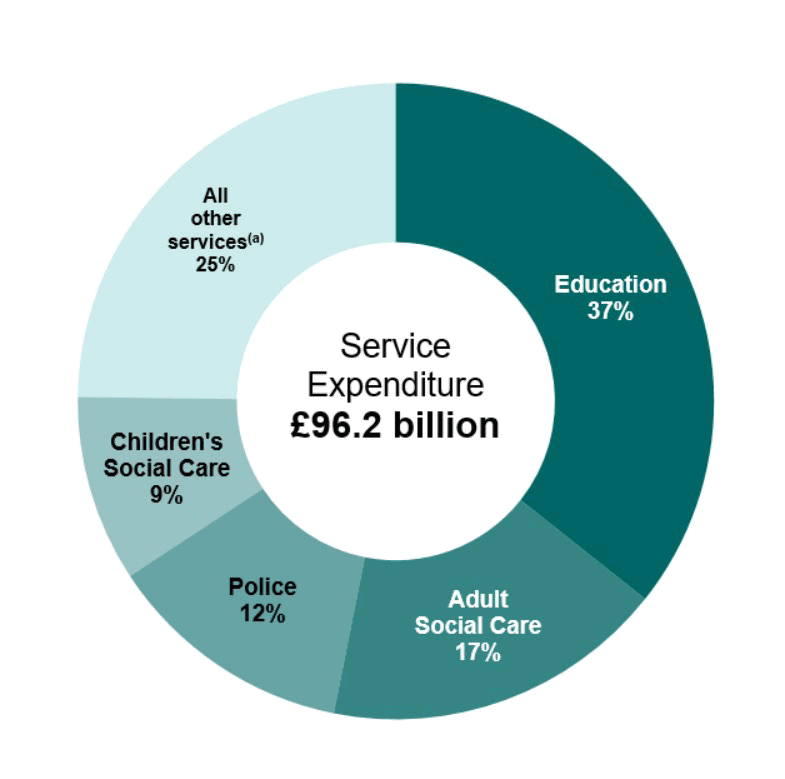 Revenue Expenditure and Financing, 2019-20 Final Outturn, Statistical Release
By the publications team at: Contracts-Direct.com
Publisher: Atkins-Shield Ltd: Company No. 11638521
Registered Office: 71-75, Shelton Street, Covent Garden, London, WC2H 9JQ
Note: This publication does not necessarily deal with every important topic nor cover every aspect of the topics with which it deals. It is not designed to provide legal or other advice. The information contained in this document is intended to be for informational purposes and general interest only.
E&OE
Atkins-Shield Ltd © 2020